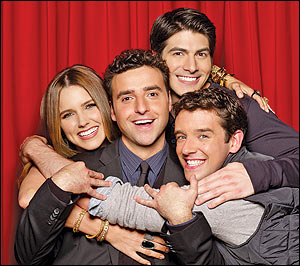 Partners-
Tune In!
Yes, there is nothing new here. Not ground-breaking laughter. Stereotyped, cliches laughs here. I'm a fan of Will and Grace (
same producers).
So yes, I did laugh watching the pilot.
Elementary-
Tune In!
By far my favorite of the CBS pilots. I enjoyed the chemistry between Lucy Liu and Jonny Lee Miller. Highly recommend watching, even if your not a Sherlock Holmes fan
Made in Jersey-
Tune Out!
Watchable. Nothing really stood out for me. Just another "Jersey" girl trying to climb the lawyer ladder.
Vegas
- Turn Off!
Vegas back in the 50's. Mobsters, showgirls and Vegas bright lights. I was bored. Great actors are casted here Dennis Quaid, Carrie-Anne Moss, Michael Chiklis.
*Tune In-
Watch it!
*
Tune Out-
DVR it!
*Turn Off-
Skip it.